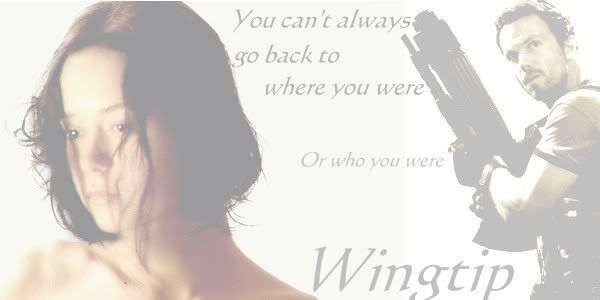 Title: Wingtip
Author: alianora
Rating: R
Summery: Ariel AU. Simon gets left behind.
This is, in fact, sort of a Rayne story. But not exactly. *innocent smile*

Massive thanks to
michmak for the beta through part 16. Worship for
magelette who picked it up from part 17.

Lovingly dedicated to
literarylemming, without whom this would not exist. She is responsible for feeding the bunny. All credit (and blame for the crack) goes to her. Im just the messenger.

Prologue/Part One/Part Two
Part Three/Part Four/Part Five
Part Six/Part Seven/Part Eight
Part Nine/Part Ten/Part Eleven
Part Twelve/Part Thirteen/Part Fourteen
Part Fifteen/Part Sixteen/Part Seventeen
Part Eighteen/Part Nineteen/Part Twenty




Wingtip-verse:
In Memoriam - Pre-Wingtip. Birdy needs to know who she is.



Sticky. Updated as new chapters are added.